Clarence Walton Musser was born in Lancaster Pennsylvania in 1909. His parents, Ezra Nissley Musser and Cora Grace Weidman had three sons. His brother Clair Omar Musser, became an internationally famous conductor for the Marimba Orchestra and President of the Musser Marimba Corp., and L. Willough by Musser, was a Borough Squire and Justice of the Peace in Lancaster County, PA. Walton Musser graduated from Manheim Borough Public High School in 1926. He was a registered Engineer in the States of Pennsylvania and Massachusetts. He was a professional inventor who deeply studied topics that were of specific interest to him and was schooled at a number of universities including Chicago Technical College, The University of Pennsylvania and MIT.

In the early 1930's he worked as a machinist and tool maker, and then started his own company designing and manufacturing special machinery where he was

employed on a consulting basis by the United States Government, General Motors, Olin Mathieson, United Shoe Machinery Corp and many other business organizations.

While working at The Frankford Arsenal in the early 1940's he developed the recoilless rifle

.

This was a revolutionary invention for which he received the "Commendation for Exceptional Civilian Service"; The highest civilian award bestowed by the US government.

He developed many life saving devices, such as cartridge-activated catapults, canopy removers and parachute release devices for aircraft. After the war, he pioneered strain wave gears, a new family of mechanical systems controlled by elastic deflection. Mr. Musser has over 200 domestic patents, and patents in at least 28 foreign countries.
---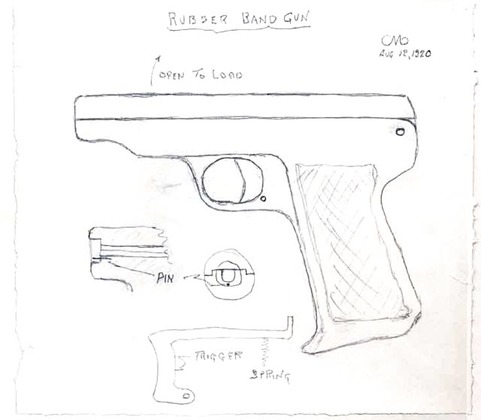 Watching the other "kids" shooting rubber bands off the edge of the ruler stimulated my imagination. If you wish to play a game, the "props" should be realistic. So copying my dad's whittling pastime, I fashioned a rubber band pistol from a hand-gun pictured in a catalog. Needless to say, I proudly displayed this in the school playground and immediately one of the upper classmates wanted it and traded his expensive wrist watch for it. Two days later, he and his dad showed up and angrily demanded his watch back. My dad called -- I told my story about the swap with the pistol -- the "kid" knew nothing about and said I took it while he was washing his hands. ZIP --- no pistol, no wrist watch. Later when I showed my dad the sketch and he listened to my story, he said he " fait accompli, it will be easier to make another than to try and retrieve your first one."
All I had left was the sketch above.